The Challenge
Appointed as PSMC Sub–consultants to Mouchel Middle East in October 2013, our team was required to provide an initial review of the ADDoT's Pilot Performance Based Contract operating on the E22 Highway and related major link roads, culminating in a revised version of the PSMC contract, and revised Performance Management Framework
Our Approach
Reviewed existing Pilot contract and provided recommendations and advisory support for key changes in line with performance criteria. Working alongside PSMC Contractor, ElsamexAscon, we reviewed initial performance and outcomes and developed key Lessons Learnt Register for contract.
Evaluation of Results considered:
Financial Performance – Contract Cost Comparisons
Service Improvements
Network & Asset Performance Improvements
Contract Pilot Outcomes & Learnings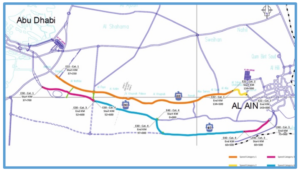 Project Outcomes
Revised and amended a Performance Management Framework for PSMC arrangements to reflect contract ethos:
Key Performance Indicator definition and reporting
Performance Dashboard development
Operational efficiency improvements
Project resulted in tabled report to ADDoT Executive Management Team for wider implementation of PSMC format.
Issued a Revised PSMC Contract Form for adoption on the Pilot.
Provided Recommendations based on:
Wider implementation of PSMC Contract to include ALL DoT Zone Contracts
Development & Implementation of Network-wide Asset Management System
"Essency provided excellent value as technical specialists on this project, their experience and approach made it very easy to work with and help make it a great success

Alan Roland, Network Inventory & RAMS Specialist Main Roads Division – Department of Transport - Abu Dhabi